"Lisa, I thought you only
have
two boys?"
Oh no, silly - I have a precious, little four-year-old nephew in Dallas who I miss with every single cell in my body!!!
So let's get to the fabulous accomplishments of
two of
my boys, shall we?
First up we have my squirmy-wormy, rowdy little nephew, Scooter-Pie (a.k.a. D.J.). I'm so very proud of him - last Monday, or I guess that would make it last, last Monday - he started Pre-K!! Pre-K?! What? He just got borned! He cain't be in no Pre-K!! (You'll have to pardon me, nowadays when I get emotional, that redneck talk just slips outta me like butter!) Anyway, I'm shocked and amazed, just like I am with my own kids all the time! It was 'just a few days ago' I was trying to calm his ornery, newborn butt down by hanging off the couch, balancing him on my knees in just the right position -
just so
- he
was
is so picky!!! LOL!
And now he's in Pre-K! He is going to do math, and social studies, and even Spanish! And he is going to have homework! Homework - that is so sweet, and a bit bittersweet....I used to give him homework. I love teaching my little preschoolers. I love giving them worksheets and helping them on the computer and all of that! I once had a first grade teacher lecture me, ever so gently. She said, "Now Lisa, you can't make Patrick 'do school' at home, when he's 'doing school' at school!" I always felt like those darn teachers stole my kids from me! And now here's another one! Gah! I just can't win! Well, I know those teachers will do a good job teaching him, and I guess that just gives me more time to blog!
Here's a picture of my handsome Scooter-Pie on his VERY FIRST DAY OF SCHOOL!!!
Awww...he's so cute! He even has his very own backpack! I'll try to dig around and see if I have a clearer picture, but, trust me - he is the handsomest, cutest four-year-old ever!!
My other boy who had a big week - Patrick! He is in the marching band, I know I've talked about that here before. And I'm sure I've mentioned that it's so neat, because, since we are in a small town, he is getting to march two years early. Very cool, indeed. Well, last week, he had his first game - my sweet boy's first marching band performance....awww....pass the Kleenex!
In true small town fashion, (so cool!) we had a pep rally the night before in the town square! Is that not the cutest thing? Here is a picture of him at the pep rally: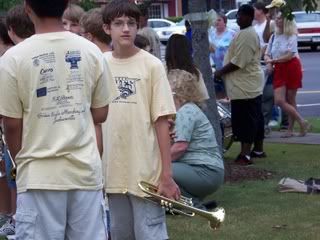 Isn't he cute? I think so, and there are some very pretty girls in Garland, TX, who think so, too! He was quite the lady-killer back home. He's still finding his groove here, but, you know what? I could use a break from all the "Oooh, Patty!" anyway. He's mine, I tell you, all mine. I am totally not ready to share him with any chickadees, even if I did
lov
e most of the chickadees in Garland!! Moving on, the next night we had the game. Due to the heat, the band was only required to wear their blue band shorts and shirt, and not the whole uniform. I thorougly enjoyed this, myself, because it made their darn gloves look so cute!!!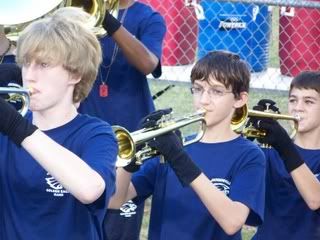 That's him in the middle - isn't he adorable? And don't their gloves look cute? I asked him if it was hard to play with them on, and he said that there was no difference. That's odd, but, you know boys - they don't really, you know....
talk
. I guess it felt weird at first, and then it quickly became no big deal.
And now these two boys of mine are having another big day today! DJ went to his very first gymnastics class! Aww.... In case I haven't mentioned it before, gymnastics is my very favorite sport - EVER! And that boy has the balance and the muscles for it. I am telling you, this kid was
born
muscular! I so wish I could have been there to watch! And again, I want to teach him cartwheels! That's
my
job!

Well, Sammie and I had been working with him on that, so I guess I got to help! Ok, I'll 'chin up' and feel better! I'm just so excited that he's taking a class - that really is a perfect sport for him!
Patrick's big day today is yet again about the marching band - he is having his first uniformed marching band performance! And I'm actually missing it! Now isn't that crazy?! Well, it's our first 'away' game and it's not
Tennessee football
, but, it is an
hour
away, and the kids left straight from school on tour buses, and my dad is coming in town (he's driving as we speak!) so we figured why not just sit this one out. We had already been thinking we might not go to all of the away games, anyway. We are not football fans, and they charge five dollars for parking and five dollars a head to get in, so we thought we would sit some of them out. I will get to get 'uniformed pictures' next week, though.
They did already have their professional photos done a few weeks ago, and he looks really handsome. Of course, you can hardly see him, because he is really small and he is smack dab in the middle of the entire band. They were grouped by instruments, and not by size, so he sort of got 'eaten up' by the rest of the band. It is a very neat picture, though, being our first official band picture.
Ok, so that is that accomplishments saga of two of my boys these last two weeks!