You see this bad boy? He's mine - all mine! His name is Kodak EasyShare Z712 IS and
I LOVE HIM!!!!
Mark just brought him home the other night. And if he thinks - for one bloody, redneck minute - that his saying, "I bought it for you, babe - it's yours" is a great way to get me not to yell at him for spending money, but, he's really going to snag it back, sneakily, here pretty soon - YA'LL JUST TELL HIM HE'S GOT ANOTHER THINK COMIN'!!! Ha!
This is our second Kodak Easy Share - I just love them, they really are great
digital cameras
- but, I love 'Number One' a little less today. Let me show you why.
The boys have to wait for their bus in front of the neighbor's house, which is across the street. On the first day of school (Aug. 9th), I stepped off of the front porch and walked
all the way
to the very edge of my yard, to take a pic of them waiting for the high school bus together. That picture is here:
Now - the first morning with my new camera, I walked ONE FOOT OUT THE FRONT DOOR - I mean, I took ONE STEP out the door - only one of my little feeties was a stickin' out of the house! And this was the pic I got: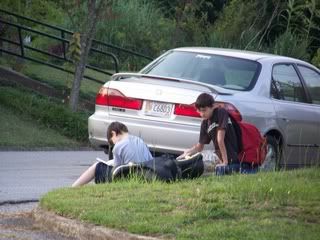 Now, do you see why I'm in Gadget Heaven?? Even though he AIN'T gettin' it back, the old man might just get some TLC!!